Playlist
Track One (1:08)
Introduction with music by Ian Whitcomb and the White Star Orchestra (Rhino Records)
Track Two (2:48)
The little girl from Kirkcudbright. Music: My Heart Will Go On by Belfast Harp Orchestra (Celtic Harpestry, Imaginery Road Records).

The little girl lay dying at the Salvation Army mission in Kirkcudbright, Scotland. The officer in charge was summoned: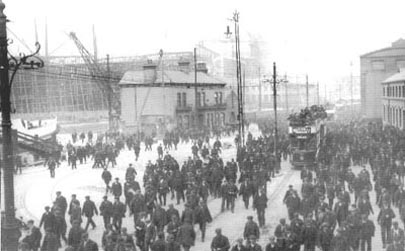 "Captain," she said, "Hold my hand I'm afraid. Can't you see that big ship sinking? Look at those people drowning. Someone called Wally is playing a fiddle and coming at you."

The captain looked around and saw nobody. But then he heard the downstairs door click open, and when he went to investigate, he felt someone whisk past him all briny and wet. The captain leapt upstairs again into the little girl's room.

"Mother has come to take me to Heaven," she said. Then she died and the Captain heard the downstairs latch click once more.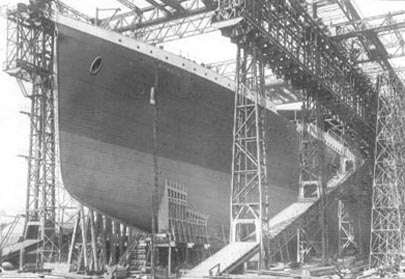 Workers streaming away from Harland & Wolff Belfast shipyard with Titanic in the background (above) and Titanic's bow (below).