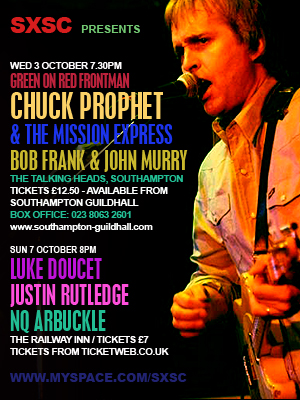 A tequila and a taco stand
Chuck Prophet and the Mission Express
Bob Frank and John Murry
At the Talking Heads, Southampton
Wednesday, October 3rd, 2007
There's only a handful of music bars that look like bars before the breweries got all touchy feely with theme consultants. The one I was headed for tonight is called the Talking Heads. It is far enough from the casino royale glitz of Southampton to be a place of sanctuary for those who prefer music raw and real and not shrink wrapped and sanitised like a packet of three from the men's room. So here I am in the big back bar of the Talking Heads on a Wednesday night, drinking from a bottle of cheap Mexican beer with a slice of lime bobbing about in it. The place has a sizeable crowd though there's room for more. I guess musically we are all spoilt for choice though I wouldn't have wanted to be anywhere else but here tonight by what unfolded.
First off were tales of darkness, darkness, a series of murder ballads performed by Bob Frank and John Murry. The lyrics were bleak, the place awash in sin. John Murry, black hat firmly pulled down, face covered in a swarthy beard, resembled a down south Baptist minister. He offered up redemption on the keen edge of his Fender guitar. His playing was taught as a cheese wire a strangler might use to wring the very life from you. His voice resounded as though it were drawn from a deep, dark well.
Bob Frank introduced most of the songs with a kind of foreboding monotone that made you wonder if you were going to get out alive. He picked acoustic guitar and sang as though he'd been raised listening to songs like Long Black Veil.
The murder ballads I guess were written by Bob Frank and John Murry and recanted desolate deeds of desperate men between the years 1920s to 1961, opening up the wound in the American psyche so brilliantly exposed in James Dickey's Deliverance.
There was something of a Mahler like doom in the playing of the fellah who switched between accordion and a small, put under your arm keyboard. Doom laden or not it was compelling and beautifully played.
The drummer set it all off with some exquisite rolls and flurries on snare and the cymbals with a bass drum back beat that was as sure as the gallows at a Kentucky hanging.
So there weren't any songs of tender hearted love, it was more Gabriel Dante Rossetti digging up his missus to get his poetry back.
Nobody was paying much attention to the time least of all the audience lapping it up when the proceedings took on a farcical edge. As the group were about to introduce their last song the sound man popped out of nowhere to tell them in no uncertain terms to unplug and end the set.
Bob Frank shrugged his shoulders, made a hurried announcement and the band sloped off stage. The last public hanging occurred in the 1920s in Kentucky and there was nearly another at the Talking Heads tonight. A furious John Murry reeled a barrage of Gatling gun 'fuck you's' at the soundman.
Thankfully the stunned soundman didn't make any response aside from a rabbit caught in the headlights glaze and a new source for a murder ballad was avoided.
I went for another one of them cheap Mexican beers with a slice of lime stuck in the top of the bottle. The barmaid tried to entice me to sample a new range of beer with tequila added to it. I declined.
I have to tell you that you don't drink tequila mixed in some cheap beer. Aside from rot gut tequila, if you an afford it, you need to taste something like a Perfido tequila but only in the right setting. It has a taste as smooth as a baby's bum with a kick like a mule.
That might be an apt description of the set that Chuck Prophet and the Mission Express got up and delivered. If you had to trust anyone to come up with a gig that would have your ears ringing and your heart thumping then those put on by Rich and Oliver in Winchester and Southampton under the South by South Coast banner stand out by a mile.
You could tell Chuck Prophet and the Mission Express meant business, the bass player had his Norman Wisdom cap turned back to front, the drummer who played with Bob Frank and John Murry got in behind the drum set again. A beautiful lady with girlish pigtails stood behind the electric keyboard, a young fresh faced guy stood patient as a choir boy with a Fender strapped over his shoulder. All waited for Chuck Prophet as he fiddled with his foot pedals and adjusted his Fender.
As a starting point I'd never heard much of Chuck Prophet or seen him before. At best somewhere on a dusty shelf I had an old Green on Red CD that had been rarely played. Some music you have to hear live to get it in context. No matter how good a CD is, there is no substitute for the real thunder of a road band.
It didn't take more than the opening bars to know this was going to be one hell of a set. There was an edgy brilliance from the kick off. Snatches of reflective melody, laconic poetry like the lime before the tequila, the snatch of salt on the lips, the first smooth intoxication before the kick like a mule when the razored riffs of the guitars come bursting in, the keyboard soared and bass and drums hit you full on.
I couldn't tell you what the songs were called, they just fell one after the other in priceless succession. To me they conjured up the real America away from the awfully slick and meaningless platitudes of American tv with its plastic presenters and baby doll hairdos, and that's just the men. At first hearing the imagery of the lyrics was like going to see a Cohen Brother's movie, a kind of Big Lebowski slant on things, an offbeat emotional journey sustained by dollar breakfasts at the taco stand.
Not only is Chuck Prophet a great songwriter, a real deal performer he is also a mesmerising guitar player. He turned that Fender inside out, there was a hell of a lot of influences in what he played but not a lick of it could be said to be anything but his own.
In short from his mop of blonde hair to his American star baseball shoes he was like some eternal rock and roll star who never grows old or fat like the Vegas Presley. His music had all the fire of James Brown at the Apollo when they had to break out the hoses to cool down the crowds. It had that edgy brilliance, those real gutsy chords like those of one of his heroes, Waylon Jennings and it just kept on coming, song after song after song.
The latest album is called Soap and Water and all the advertising says that Mojo, Q and Uncut have given it four stars. The music was worth five or more tonight.
From opposite wings the young Fender guitar player and Stephanie French on electric keyboard balanced out the strident guitar playing of Chuck Prophet with beautiful slide and piano chords. What the drummer and bass player played all night was akin to the best champagne with the finest cognac chaser. The whole band rocked the joint.
The vocals throughout were priceless. The drummer and Stephanie French on the choruses, Chuck Prophet switching between two microphones, one giving feel to the richness of his voice, the other almost cold and stark. He used both like he used the guitar to make dramatic turns in the songs. Towards the end Stephanie French got to sing and her voice and the songs whatever they were called came hand in glove with rest of the set.
There was some beautifully moody slow stuff too and it all fitted like a sonic jigsaw. One of the pearls came at the end of the set. It sounded as though it was an old song by the calls from the crowd for it, including a big fellah perspiring at the front who literally danced all night and seemed to be the avid fan who follows a band everywhere.
The song itself reminded me of something would have sounded spot on for the soundtrack of Apocalypse Now, something to keep a tormented Brando company in the steamy jungles of Vietnam or signal the blood and mayhem coming in the blur of the rotor blades. It was another masterpiece of fire and passion and the audience erupted into an ovation as the band came off and down to the side of the stage. They hung around there for a few moments taking breath and grinning big time at the applause before disappearing through the fire exit door leaving Chuck Prophet to return to the stage.
Fending off calls for songs, Chuck Prophet hung on an acoustic guitar and joked "Encores are for kids." Then he sang two songs as vibrant and full on as he'd been surrounded by the band. I don't know what the first song, a lost love ballad, was called but I'd sure like to hear it again and again and again.
With the crowd still roaring for more the band came back through the fire doors and took the stage again. The final song was utterly priceless, not only did it rock the joint it became a vehicle for Chuck Prophet to let rip with all he could summon. The Fender guitar seared and soared, the audience was spellbound.
It was a lesson for all those infatuated playing renditions of Jimi Hendrix how its done, not to play guitar ventriloquism but develop a style of your own. Oh how I hate all that 'Stars in their eyes' tribute band crap.
With his guitar at thirty degrees, Chuck Prophet's blistering notes literally peeled paint off the walls. It wasn't the same old, same old frenzied arpeggios of air guitarists in front of the mirror, it was a symphony of searing razor chords mixed with staccato stabs of notes, it was the white man's blues, the kind of stuff drawn from some scuzzy bar still standing in Memphis where the jukebox is playing Al Green soul and Waylon Jennings hard nosed country.
I've seen enough, heard enough fake Hendrix posers to last a lifetime. Every once in a while you are lucky to have the real thing laid at your feet. In the words of Pete Frame, it was 'like being showered by five pound notes.'
A fantastic gig, blinding ending, keep them coming Oliver and Rich, these scuzzy bars just wouldn't sound the same without you.
Mike Plumbley