Auf Widersehen Pet (above and bottom) was a highly popular television programme, based upon the history of the migration of workers from the North East of England in 1960s to Germany and their adventures there. Recently the BBC revived the series when the somewhat older, just as outrageous group of Geordies re-unite to sell the Middlesborough Transporter Bridge (which takes vehicles across the river. Pictured top and right) to native Indians in Nevada.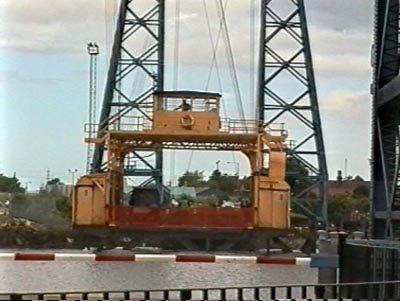 Curiousity gnaws at me to check its still there. It is spanning the gap North and South across the River Tees!!!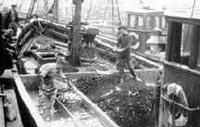 In the late 50s and 60s the North East was an area synonymous with staple, traditional industries, chemical processing, ship building, coal mining and steel working to mention just a few. By the mid 60s the winds of economic change had blown aside tradition. Industries that had supported local families for generations were in fast decline. Unemployment hung like the sword of damecleas over the whole region. Family breadwinners, desperate for work began looking toward the then prosperous economies of European countries, like Germany for work.
These were desperately sad times for many families throughout the Teeside region, a story told to me that evening, whilst I sat in a local pub in Middlesborough, enjoying a beer with local singer/songwriter John Calvert.
John is a plater, formerly working in the ship building industry, now plying his trade plating, building and repairing oil rigs for North Sea Oil and Gas exploration. In the 60s along with hundreds of fellow workers, John joined the exodus to Hamburg.
John writes his songs in his head while at work with his ear muffs on:
"It puts you into your own little world, away from the endless noise of jack hammers, rivit guns, steam hammers and presses, it gives me the chance to write down in my mind the lyrics and melodies for more songs of my native North East."
Two songs from Teeside songwriter John Calvert are featured in this Ragamuffin Ramble. Hamburg and the Teeside Buccaneers. John has fourteen unreleased songs about life in the North East.
Contact John:
01642 281729