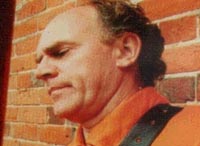 Ragamuffins interview Brian Hinton about the book he co-authored with Geoff Wall a biography of Ashley Hutchings. Hinton enthuses on his subject, the Guv'nor of English Folk and Folk rock music from Fairport Convention to the Albion Band and beyond.

at Compton
Airscape - Robyn Hitchcock (Element of Light)
interview with Brian Hinton
Morey's Hump - Ashley Hutchings, Phil Beer, Chris While, the Ridgeriders Live In Concert (left)
| | |
| --- | --- |
| The Spyglass Inn (right) with glorious views over Ventnor Bay where the Ragamuffin's captured a magical evening of music from the Grimshaws . . . | |
at the Spyglass
Fiddle tunes at breakneck speed and Dinah - JC, Angelina, Cathy and cracking ukelele player interspersed by JC Grimshaw solo album tracks Sweet Old Kissing Blues and Honeyman
Our Ragamuffin Ramble on the Isle of Wight ends at the Spyglass Inn on Ventnor seafront where as the sun begins to set down on the horizon JC and Angelina Grimshaw begin their regular Thursday night evening session. On hand are John Rufus and Kim Grimshaw, the parents of JC and Angelina. JC's wife Cathy joins the duo on fiddle and a ukelele player steps up to whang the walls with what the Grimshaws lovingly call 'thrash skiffle'. Stunning stuff and to quote Keith Gore:
"I love this diamond Wight island from the see you laters to the absolutely wierd and when I'm sat by the Longstone I can see Tennyson from here . . ."
JC and Angelina Grimshaw, Cathy Grimshaw at the Spyglass Inn performing Dinah, and various breakneck tunes interspersed by two songs from JC Grimshaw's solo albums, his father's Sweet Old Kissing Blues and his own Honeyman. If I knew the name of the stunning ukelele player I would tell you, folks just come out of the woodwork at Grimshaw gigs . . .
For more on the Grimshaws visit:
http://www.iowrock.net/villagebike




Two JC Grimshaw albums featured on this Ragamuffin Ramble are Footprints and Dreams (Sweet Old Kissing Blues) and Dance While You're Living (Honeyman).
Editor's note: No ramble on the diamond Wight can hope to encompass all the music and all the talent therein, visit if you can, you will find more music than you can throw a stick at . . .