Picking Up Another Musical Thread.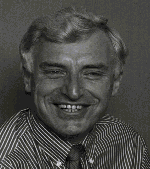 Ragamuffin Brian.

SAMUEL REUBEN KENDRICK,

My great-grandfather, was born a slave in Alabama. In 1888 he founded a farming community called New Africa on 160 acres he bought from the railroad near Duncan, Mississippi. Among the tribulations he faced floods, boll weevil infestations, bank loans due-one incident finally persuaded him to leave Mississippi. When a sharecropper on a nearby plantation asked to live and work on some of his land, Sam Kendrick sent over a wagon for the man's family and belongings. A mob of whites led by the plantation owner trapped my great-grandfather and pounded him to the ground with ax handles, cursing him for taking one of their workers. Stealing from a white man, they called it.

Soon after the incident, on a cold January day in 1909, he was repairing the little wooden bridge over the lake on the edge of his farm. His mind may have wandered perhaps to his plans for starting anew in Texas-and he dropped his hammer. He waded into the water to get it and continued hammering. That night he felt chilled. A few days later, at the age of 56, Samuel Kendrick was dead of pneumonia.

Well, the blues am a achin' old heart disease, Well, the blues am a low down achin' heart disease,

Like consumption, killin'me by degrees.

-ROBERT JOHNSON

The phrase "having the blues" goes back to 18th-century England,[ trust those darn limeys to get in on the show!] where the "blue devils" was slang for melancholia. But it was sorrows like Sam Kendrick's, common among blacks after the Civil War, that led to a raw new music-the blues-depicting work) love, poverty, and the hardships freedmen faced in a world barely removed from slavery.

If he had lived, my great-grandfather would have been part of one of the largest peacetime internal movements of people in history. Between 1915 and 1970 more than five million African Americans left from every field and corner of the South, most going to the nation's booming cities. Sam Kendrick's eldest child, Swan, my grandfather, settled in Washington, D.C., where both my mother and I were born. Others in the family followed the heavily travelled path out of Mississippi to Memphis, where the blues spurred the rise of rock-and-roll. This "blues highway" led on to Chicago- the mecca for bluesmen and other migrants.

One who landed in Chicago in 1936, Willie Dixon, called the blues "the facts of life Dixon was a blues songwriter, poet, and philosopher who campaigned for more than 50 years for recognition of the blues as the root of all American music. "Everything that's under the sun, that crawls, flies, or swims likes music. But blues is the greatest, because blues is the only one that, along with the rhythm and the music, brings wisdom.'

All routes from the South were paved with a people's blues, but no place is more closely associated with the music than the Mississippi Delta. This broad, rich flood plain anchored by the Mississippi and washed over by the Yazoo, Tallahatchie, and Big Sunflower Rivers-spreads 200 miles from Memphis, Tennessee, to Vicksburg, Mississippi. The black Delta soil steams in the broiling summer heat as I turn off Highway 61 onto a narrow paved road that was a wagon track in my great grandfather's time. Robert Johnson's "Me and the Devil Blues" is playing loud on my tape, his brooding voice and intense guitar seeming to conjure up Delta spirits. I stand on a steel bridge-successor to the one Sam Kendrick had worked on-and stare into the murky water. Here in the place where his life ended, I'm beginning a journey through memory and into the blues.

Around midnight on a sweltering Saturday in August, Mama Rene slides onto the barstool next to me at the Do Drop Inn, just off Highway 61 in Shelby, Mississippi. "No, honey, blues are not just about us being sad. That's why I opened this place. It's a way to remember. The blues talk about black folk, how we lived, the way we were treated. And we're still going on.' Irene Walker-Mama Rene-is a handsome woman of 63 who grew up a sharecropper's daughter. For 33 years she's been a nursing assistant with the Delta Community Home Health Agency, based in Clarksdale. Lately she's been trying to attend to the blues with the same care she shows for her patients. "Blues is fading away with young black folks," she says, shaking her head. "They think it's for old folks. They've let the rap take their culture away from them, and young whites are moving into our culture.'

Next to the bar is a brightly lit area with a pool table and electronic game machines. Beyond is a small stage and dance floor, dark but for the glow of blue and green Christmas lights strung along the ceiling.

On stage a hard-driving blues band with two guitars, drum, and electric piano is connecting with the sparse crowd. The lead singer, sweating heavily, eyes shut, moans, "Have you ever seen a one-eyed woman cry?" His mournful words elicit emphatic shouts of release from the dancers. "Yess, Lawd!" "Talk to me now!)) With waving arms and swaying bodies they

seem to be pushing through a doorway, if not to a better life, to a better moment.

A spring shower soaks field in the Mississippi Delta, a fertile place for cotton and the blues. The land produced a who's who of musical greats (map). Many joined the migration of blacks from the South to northern cities along what came to be known as the "blues highway' connecting New Orleans and Chicago. Between 1915 and 1970 the nation witnessed a relocation of more than five million African Americans.

The scene is a reminder of what Worth Long, a historian of the blues, told me. "No matter where they're playing, jukes or in a yard, blues is music to move to Before the blues, songs were sung to pace work-pounding railroad ties or chopping cotton with hoes. Then, said Long, "the work song moves to the dance, which was once held in front and back yards. Then dancing moves from the yard to the juke-commercial places."
A year passes before I return to Mama Rene's to find a radio DJ playing CDs. He's telling everyone tuned in that he's broadcasting live from the Do Drop Inn in Shelby. The crowd is younger, larger. "I've got to make money," Mama Rene sighs. "I'm trying to think how to bring my blues night back the way it was. I'll find a way."
YOUNG BLACK PEOPLE still go to places like the Do Drop to dance, but the blues doesn't mean much to them anymore, although it animates rap and other music they listen to. Blues music sprang from poverty and restriction, and for many black Americans it has been something to disavow. The often earthy lyrics didn't help either. Indeed lines like Sonny Boy Williamson's "Every time she starts to loving, she brings eyesight to the blind" had some calling the blues "devil music.' A straitlaced, nonsmoking, non drinking, hymn-singing churchman like my great-grandfather Samuel Kendrick would even have been offended by words like James Cotton's "raising a good cotton crop's just like a lucky man shooting dice' "
Mississippi Delta blues has been called "deep" blues. Musicians from the cotton fields-men and women like Muddy Waters, Willie Foster, David "Honeyboy" Edwards, Memphis Minnie, and Son House-played and sang with extraordinary power. The land itself seems to demand it. In summer the Delta is a place of sullen heat and sudden angry thunderstorms, when heaven seems to short-circuit and puts humans in their place. Long rows of cotton offer no relief from the disorienting flatness. You always feel exposed and want to run for cover, into a juke joint with a bottle of whiskey or into a church. Both places maybe. Depends whether it's Saturday night or Sunday morning.
My friend Sterling Plumpp from Mississippi, a poet, university professor, and sage on black music, reminded me that the spiritual music of the church and the worldly music of the juke joint are not that far apart. "The first time I heard blues was in my grandfather's prayers," he said. "'Take care of Seal, the workhorse that's sick. Drive the bo'weevils away. Put some softness in white folks'hearts so they won't cheat so badly this time."'
In Yazoo City, the Reverend Arnold "Gatemouth'Moore, 87, confirmed the tie between blues and church. I asked him about making the shift from popular blues singer to preacher. "When I came to Christ, I changed the lyrics. I got the same voice, same key, but the words are different. Same music, same everything.' So while I can't imagine Sam Kendrick singing, "If the blues was whiskey, I'd stay drunk all the time," I can hear him singing, "O Lord, 0 my Lord, 0 my good Lord, keep me from sinking down.'
As an educated black landowner, my great grandfather was in a tiny minority. But the freedman's blues he suffered linked him with the most uneducated black sharecropper. Across the South in the late 1800s Jim Crow laws tightened racial segregation, curtailing freedoms gained as a result of the Civil War. Curfews banned blacks from streets after sunset. Mississippi's 1890 state constitution effectively stripped blacks of voting rights. Years later Sam Kendrick's youngest daughter, my great-aunt Hattie, said she couldn't look at the TV movie Roots because it reminded her of those bitter Mississippi days. "I find my throat dry, and stuff kind of boils up in me " she said.
Since I last traveled the Delta a quarter of a century ago, it has changed almost beyond recognition. You don't see people working in the fields anymore. The sharecropper shacks, once ubiquitous, are gone, replaced by a few neat bungalows and trailer homes for the families of the men who operate the tractors, mechanical cotton pickers, and other implements that have replaced human labor. Metal irrigation sprinklers crawl across the land like giant millipedes. Bright yellow crop dusters fly overhead, spraying chemicals to hold back insects and weeds.
Folks in drowsy towns like Tutwiler who remember the old days don't regret their passing. "You picked the white man's cotton. He takes it from you and do what he want with it," is how Judge Davis Irving, 69, describes sharecropping.
Sashaying before an appreciative crowd, Lynn White belts it out at the two-day Medgar Evers Homecoming Festival near Pickens, Mississippi, where the tang of barbecued ribs is music to the nose. From the beginning the blues and southern cooking have nurtured each other: Performers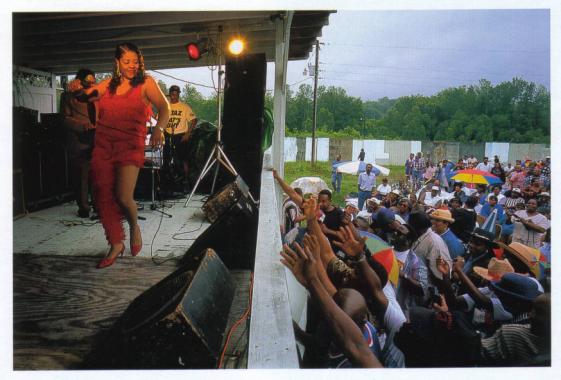 "Judge" is Irving's real name, but everyone calls him J. D. Irven white people addressed you by your first name no matter what your age, having "Judge" as a first name was one way to protest the insult.) Until he was 18, J. D. lived and worked with his father on Prairie Plantation just outside Tutwiler. "It had maybe 200 houses on it and 50 mules, not counting us' "

Sharecropping usually meant a cycle of endless debt. Half of what the sharecropper grew belonged to the owner outright. To purchase supplies or rent a "shotgun' shack (so named because a blast fired through the front door went straight out the back door), the sharecropper borrowed from the plantation owner in the spring. This loan was called "furnish." Repayment was due at "settle" when the fall crop came in. Any money the sharecropper made came from what was left over. Often he got nothing or owed money. The plantation owner, "he got the books and keeps the figures J. D. said, frowning. "If you disagree, you move; you go to another plantation.'

Willie Foster, still performing at 77, is one of a dwindling number of bluesmen with the memory of laboring to a song. "A man be way down in the field plowing with a mule, singing, 'Oh, my baby gone. I'll soon be gone myself.' That was because he couldn't move off the plantation when he gets ready. He would ask the man, 'Can I move?' And if he say, 'Naw you can't move,' he'd run off and he would sing, 'I'm gonna leave you, baby, and I won't be back no more.' It wasn't his wife he was singing about."

We're talking in Willie's small home in Greenville. He is missing a leg and is legally blind, but that doesn't stop him from singing in local jukes and touring overseas.

"I was born with the blues," Willie says, describing how his mother gave birth to him on a cotton sack in a Delta field because the plantation boss refused to give her time off. With no brothers and sisters for company, Foster taught himself to play the harmonica. ("It was 25 cents at the Rexall in Leland.") He imitated birds, trains, and train whistles.

traveled the "chitlin' circuit" of nightclubs that served up hot music with chicken and chitterlings on the side. Since World War 11 the blues has gained a wide following among audiences of all colors and has extended its reach even farther through its high-spirited offspring: rock-and-roll.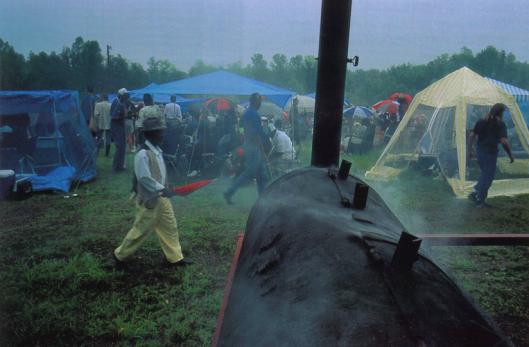 'When I turned 17, I said,'Mama, I'm grown now. I done learnt everything about the Delta, but I heard so much about Chicago."' Willie left home on foot "without a dime in my pocket," and by taking various jobs along the way, he eventually made it to Chicago.
NOT ONLY does every bluesman have a getting away from the plantation story, they all have an apprentice story related to that experience. In 1931 David "Honeyboy" Edwards, now 84, hopped a Memphis-bound freight train with a guitar borrowed from his brother-in-law. "Working for a dollar a day all day was not for me, " he said, remembering his life on a plantation near Greenwood, Mississippi.
But he drifted back home a few months later. "The music hadn't learned me like," he said, referring to his lack of artistry. One night he met Big Joe Williams, a well-known bluesman, who asked Edwards if he could play the guitar he was holding. "I played a few strums on it, and he said, 'I can learn you how to play."' Edwards left with Williams, "and I never did come back.'
After traveling with Big Joe for a time, Honeyboy found his own path one day in Bay St. Louis, Mississippi. "I was on a bridge. They was catchin' crab on it-had the nets down with meat in 'em. Somebody say,'There's a boy with a guitar. Can you play that guitar, boy?' I started to play on that bridge, and people started stoppin' catchin' crabs and listenin' to me. Gave me nickels and dimes. I say,'l don't think I need Joe Williams."'
Honeyboy Edwards is still a blues master. Having listened to a recording he made in 1941, I'm astounded, hearing him in 1998, that the power of his voice and playing has not diminished. In the blues, as he shows, the singer's vocal timbre drives the emotional impact of the song as much as the lyrics. Like Willie Foster, Honeyboy is a living history of the blues, with personal knowledge of every major blues figure from Charley Patton and Robert Johnson to Muddy Waters and Little Walter. When asked about Robert Johnson, he smiles for a moment, mind flashing back. "He definitely liked the women and his whiskey-'
Now there's got to be some change made
around here, people;
I'm notjiving, that's a naturalfact...
I'm gonna jump up on one of these old poor mules and start riding and I don't care where we stop at.
THE CRUCIAL DIFFERENCE between slavery & land sharecropping, best reflected by bluesmen like Honeyboy Edwards, was the relative freedom to move: from field to field, from field to factory. Moving on is a frequent theme in the blues, a refrain that is really a code for freedom and opportunity.
By the turn of the century tens of thousands of African Americans had already left the South, some joining land rushes to Kansas and Oklahoma, others going to northern cities, where opportunities seemed greater and oppression less. But with the advent of World War I and the accompanying demand for increased production in the industrial North, the real exodus from the Delta-and the entire South-began.
Honeyboy Edwards was not quite two years old in 1917 when black America's most widely read newspaper, the Chicago Defender, ran this ad: "The Defender invites all to come north. Plenty of room for the good, sober, industrious men. Plenty of work. For those who will not work, the jails will take care of you. When you have served your 30 days at hard labor you will then have learned how to work. Anywhere in God's country is far better than the southland.... Don't let the crackers fool you. Come join the ranks of the free."
Eighty percent of America's ten million blacks lived in the South in 1917, when the nation entered World War 1. Chicago's busy brickyards, meatpacking houses, and steel mills had long attracted European immigrants, but the war halted this flow. Meanwhile white factory workers in the U.S. were going to Europe to fight, leaving a vacuum just as industrial demand was soaring. Southern black labor was a solution. Once under way, the movement out of the South ebbed only during the 1930s Depression, with the numbers between 1940 and 1970 exceeding a million people a decade.
You might think that in a region rife with racial tension, where blacks often outnumbered whites, the exodus was welcomed. Not so. "Where shall we get labor to take their places?" asked Alabama's Montgomery Advertiser. In Mississippi laws imposed fines or jail on agents-usually blacks-who encouraged laborers to leave the state. Charles Johnson, a sociologist who traveled in Mississippi in 1917, noted that an agent "would walk briskly down the street through a group of Negroes, and without turning his head would say in a low tone: 'Anybody want to go to Chicago, see me.
Upstaging his age, 80-year-old Rufus Thomas works the Chicago Blues Festival. Singer, dancer, and comedian, he promoted the blues in the 1950s as a disc jockey on WDIA in Memphis, the first radio station dedicated to black music. His own biggest hit was the novelty song "Walking the Dog.'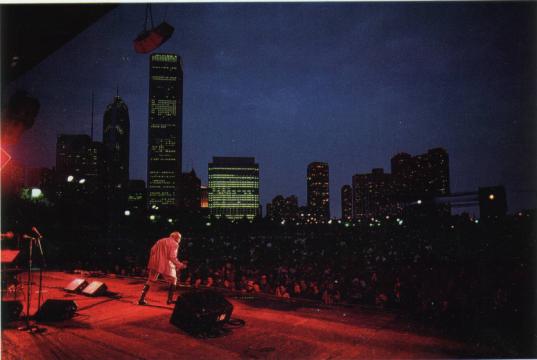 In 1918 a ticket to Chicago from New Orleans cost about $20-nearly a month's pay on some plantations. Many people sold their belongings-often at a loss-and gradually moved north, working and saving enough money in one town to move to the next. Sometimes families split up. One man with a family of five wrote to the Chicago Urban League, a black social service organization, for train tickets: "If you cant sen for all send 2 one for me and my brother he live with me he is 18 years old then i can arange for the rest after i get out there."
The Chicago Defender's militant drumbeat contrasted lynching and racial oppression in the South with glowing descriptions of a free and prosperous life in Chicago. "Copies were passed around until worn out," said one reader. People coming back home for a visit brought gifts, flashed money, and were full of all the news about living large in the big city. The North, the "promised land," was the talk in cotton fields, on street corners, in churches, barber shops, and juke joints. As one Chicago letter writer noted, there was more to it than the search for jobs: "My children are going to the same school with the whites and I don't have to umble to no one. There isn't any 'yes sir'and'no Sir."'
FOR THOSE LEAVING the Delta, the port city of Memphis on the Mississippi was the first major stop. Trains from the South converged on Memphis, where passengers boarded the Illinois Central Railroad for Chicago. If you walk a few blocks northeast of the old railroad station, now being renovated, through a crumbling neighborhood with cracked, weed-sprouting sidewalks, you come to Beale Street, once the heart of black Memphis.
"I found Beale Street to be a city unto itself," writes B. B. "Blues Boy" King in his recently published autobiography. At 73, B. B. King still travels with his old guitar, Lucille, the two of them performing up to 300 days a year. To King, who was born on a plantation near Itta Bena, Mississippi, and first went to Memphis in 1945, Beale Street looked "like heaven.... There were three movie palaces, cafes, hotels, pawnshops-I'd never seen a pawnshop before-variety stores, and musicians everywhere. All my confidence from all those Saturdays playing all those little Delta towns vanished-just like that.'
A musician could play on the street for tips or, with luck, in a theater or club. Both blues and jazz blew into Memphis, reinforcing each other. In the 1950s B. B. King helped pioneer the use of spiritual and jazz elements in the blues. "As folks moved up and down the river, they brought what they saw at each end into song," says Worth Long, the blues historian.
In Memphis in 1909 W. C. Handy, who had traveled the South with his own bands since the 1890s, wrote what is said to be the first blues song ever published. It was inspired, he said years later, by a melody he heard in 1903 while waiting for a train in Tutwiler, Mississippi. Handy was awakened by a man "plunking a guitar beside me. He pressed a knife on the strings of the guitar. The effect was unforgettable." The song Handy wrote, "Mr. Crump," was a campaign song for Edward H. "Boss" Crump, the powerful mayor of Memphis.
These days on Beale Street tourists choke the blues clubs. Fast-food carryouts and souvenir shops are inescapable, and the Monarch Saloon, one of Handy's hangouts, is vacant. The elegant Palace Theater, which gave B. B. King and other musicians an important boost, has been demolished.
A.J. Burnett, 71, was just 13 when she began dancing at the Palace in the 1940s as one of the "Vampin' Babies. ' A tall woman, she's still given to lithe, quick movements. "What they are doing in Las Vegas now, we were doing 50 years ago," she says, taking my hand as we walk down Beale. In her day it was a street of jazz and blues, men in suits, women dressed to kill or die for. Everywhere music floated above motion. "Decent people didn't go to juke joints' " she says, expressing disdain for today's commercial hustle.
Like it or not, Beale Street tourism swells city coffers. But A. J. dislikes the way blues instead of jazz has become the street's main flavor. As we pass Handy Park, where a blues singer is passing a box around to tourists for coins and bills, she snaps, "The street is nothing now."
FROM MEMPHIS it's on to Cairo, Illinois, the halfway point to Chicago. As Judge Irving had told me in Tutwiler, Cairo was where the North began. "They had a black curtain on the bus-white folks in front, us in back. They took it down in Cairo.' Hattie Kendrick, the youngest of my great grandfather's five children, moved to Cairo in 1927 at the urging of a cousin who'd come up from Mississippi. In this "oasis," as Aunt Hattie called Cairo, she settled into a boarding house and began teaching in a one-room school.
I hadn't been to Cairo since I was a small boy. Then, I didn't know enough to ask my aunt the questions I wished to ask her now. She died in 1989 at age 94, but I'm grateful that during the last ten years of her life she put her recollections on cassette tapes.
Like many African Americans taking their first steps in the promised land, Aunt Hattie found that life in it wasn't all that had been promised. She was angered that black teachers earned less than whites,and in 1941 sued the Board of Education to equalize teachers' salaries. Thurgood Marshall, who was then chief counsel of the NAACP and would in 1967 become the first African-American justice on the Supreme Court, took the case.
"Let me tell you a good story," Aunt Hattie liked to begin, when recalling the day her case came to court. "Thurgood and this other attorney were being called 'boys' by the defense attorney. He went on about how only a 'brilliant attorney' like the one who'd won a case like this in Tennessee could win this one. After he finished, Thurgood got up and bowed to him and thanked him, saying :'I am that qualified, brilliant attorney who handled that case' The whole courtroom burst into laughter." The case was won.
In 1973 Hattie Kendrick charged that Cairo's at-large system for electing the mayor and four councilmen discriminated against the city's black population. Seven years later her complaint paid off-a consent decree resulted in the creation of five wards, two with a black majority population.
Aunt Hattie, like her father Samuel Kendrick, sang no blues, though many of her tapes are punctuated by songs she remembered from childhood and church. Yet her life is a blues story, not for any hurt that came her way but because of her determination to move on to something better. Like the great blues singers, Hattie Kendrick was set on making her mark.
Well, I rode number seventy-four, boys, and the rain was falling down.
Well, I rode number seventy-four, boys, and the rain was falling down.
Well, you know I got awful cold and chilly,
boys, but I was Chicago bound.
-WILLIE LOVE
FOR ALL THE IMPACT of people like Hattie Kendrick, Cairo remained a backwater, stunted by the decline of lumbering in the region and the growth of Chicago as a railhead and port. Even Aunt Hattie spent summers in Chicago, working as a maid, enthralled by the city's size and pace. "You could just stand there at State and Madison Streets and see things you never dreamed of."
I like Chicago's energy too. But the day I arrived, newspapers were reporting the collapse of a truce between two gangs. Another day, walking down 47th Street, I saw two young men make a lightning-quick exchange a small packet of white powder for money.
A tough, sometimes grim, but less self destructive black Chicago greeted Elnora Jones when she stepped off the train from Mississippi in 1945. A trim woman of 79 who laughs easily, she'd just moved into a new apartment near Lake Michigan when I visited her. "Look at me now!" she exclaimed. "A sharecropper's daughter, and I got an air conditioner, a view of the lake, and a reporter in the house. Don't tell me you can keep a good woman down."
Her mother had come to Chicago first. Elnora followed a few weeks later with her three children and her youngest brother, Eddie Campbell. Eddie, once the band director for the blues legend Jimmy Reed, is now a highly regarded bluesman himself. They boarded the Illinois Central in the Delta hamlet of Coahoma. "We didn't take much. We all had little suitcases, sort of cardboard you know, the kind you have to tie together or they would pop loose. And shoe boxes of fried chicken and biscuits."
On the outskirts of the great city they passed the fire-belching smokestacks of steel plants. Pulling in at night at the 12th Street station, they were greeted by noisy throngs, huge buildings, and bright lights. "It was the biggest place I ever saw."
Elnora still shivers with excitement as she describes the trolley ride from the station, when she discovered that the rules of racial etiquette so rigidly applied in Mississippi didn't apply in Chicago. "It was crowded, and I'm standing there holding the rod when a white man got on, and his hand touched mine. I let my hand go, then I put it back. Wow!"
Not that there weren't occasions for second thoughts. Chicago was crowded. There was a sharp color line in housing, and conditions were rough. "Roaches" she shudders, talking about her first apartment, which she shared with three other families. "I'd seen rattlesnakes in Mississippi but not those things.'
End of an era was marked by the January 1998 death of blues elder statesman Junior Wells,
an ace harmonica player whose stage presence matched his flamboyant playing style. His 1965 album Hoodoo Man Blues is considered one of the greatest blues recordings of all time.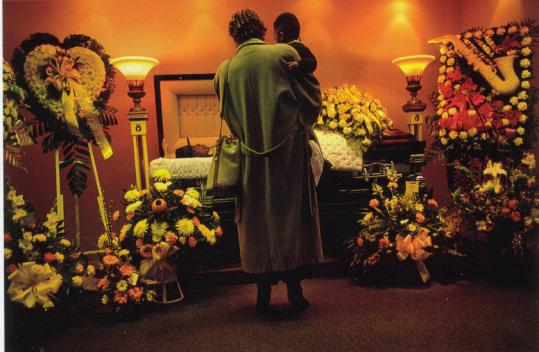 Between 1910 and 1930 Chicago's black population grew fivefold, to nearly a quarter of a million. Working-class neighborhoods-the "black belt"-stretched south from downtown along Lake Michigan. They were home to steelworkers, packinghouse workers, janitors, porters, and maids like Elnora, who draws herself up proudly when telling me that even though she has a third-grade education, her three children have college degrees.
It was working people with extra money to spend who made possible the musical success of men like McKinley Morganfield, better known as Muddy Waters. (As a child he liked playing in the mud.) He had jumped off a train from Mississippi in 1943 with his guitar and a single change of clothes. Although he found a job paying $45 a week on the loading dock of a paper factory, he was soon playing at rent parties and in loud clubs like the Chicken Shack on Chicago's West Side.
As musicians came to Chicago, exchanging ideas and influence, the city pioneered the transition from the folk, acoustic sound of the plantation South to a more sophisticated urban, amplified sound. Maxwell Street, on the West Side where the poorest of the poor settled, became a mile-long teeming bazaar on weekends. Musicians sang or played on corners, and electric cords stretched from sidewalk amplifiers to sockets in apartment walls. Muddy Waters played Maxwell Street occasionally, but he told an interviewer, "I didn't like to have to play outside in all the weathers, and I didn't like to pass the hat around."
A warm Memphis reception pleases Clarence 'Gatemouth" Brown, who spices his sets with Cajun, jazz, and bluegrass, illustrating the affinity between other American music and the blues.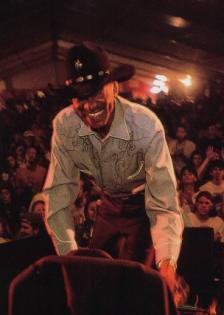 PARALLELING the growth of music in Chicago was the growth of enterprise in communities like Bronzeville, a sprawling, energetic South Side neighborhood that ran from 26th Street south for some 40 blocks. Today the blues hangs over much of the area, but not much music is heard. It's late afternoon, and I'm sitting with Gerri Oliver at the bar of the Palm Tavern on 47th. 'My family's dream was for me to be a funeral director,' says Gerri, another Mississippian who moved to Chicago in the 1940s. "I just wanted to put my son through school." She didínt pursue her family's wish but worked variously as a check casher, hairdresser, and manicurist. Then in 1956 she and her husband bought the Palm.
With its gloved waiters and starched white tablecloths the Palm was soon the place for local and visiting musicians to come for food and drink. Gerri ticks off a long list that includes Dizzy Gillespie, Count Basie, and the Temptations. "To think I knew all of these people who are now famous," she says. "I took them for granted."
As we talk, one or two regulars drift in for a drink. Most of the clubs and theaters that made Bronzeville so vibrant have closed, and the Palm doesn't offer dinner anymore. "Those drug dealers told me if I don't let them sell from here, I wasn't going to get any business. I don't sell crack, and I sure ain't making money off martinis in here" Gerri sighs. But this is the life she knows, and so she's holding on.
From the Palm it's a short walk to the Checkerboard Lounge on 43rd, where I meet Sterling Plumpp, the poet and professor from Mississippi. Sitting with him at a Formica table, I glance around the room. Posters advertising beer, some with a woman cuddling up to a can, decorate the walls. A street sign hanging from the ceiling reads "East Muddy Waters Drive."
The Checkerboard is one of a handful of places on the South Side where you can still hear live blues. Although black Chicago powered the blues, live music has largely moved to posh clubs on the North Side, where for musicians the pay is better, and for the mainly white patrons the walk safer.
"If you're not living here, the neighborhood seems dangerous," says the bartender when I comment on the empty streets. "Actually, it is sometimes' " Part of today's problem is the flight of middle-class blacks to the suburbs. As de facto segregation north of the Mason-Dixon Line crumbled in the 1970s, blacks fled inner cities, much as an earlier generation in the South had fled plantations. The facts of life, Willie Dixon called the blues. The facts change; the blues is simply how life feels as it goes on. "There's more continuity in blues as an expression of everyday life than anything on this globe," Sterling says. That's what connects Samuel and Hattie Kendrick to Honeyboy Edwards, Willie Foster, Elnora Jones, and others I met along the blues highway.
The continuity lets me recognize myself in the blues. Not unlike teenagers today, my generation had dismissed the blues as too old and too passive. We couldn't hear. And for many of us, our southern roots were distant. But now in Chicago, at this journey's end, I look back down the blues highway and give thanks to those who traveled it before me. Their music and their struggles smoothed my way.
I settle into the music. On stage at the Checkerboard is John Primer, at 52 a bluesman of a younger generation than men like Honeyboy Edwards, Willie Foster, and Gatemouth Moore. Primer's voice has a rough edge; his harmonica produces torrents of sound. It is as if he is trying to force life back into the bleak streets outside. "Sweet Home Chicago, ' he sings, not with irony but fervent belief.

Ragamuffin Brian.
.