Challis Idaho, yesterday, Tony Gilliam, Jack Williams, Theatre Director Jerry Slate

GrassRoots Radio PlayList
GrassRoots Hour
(July 10th, 2001)
Brian 'the silver fox' (Ragamuffin Radio)
and 'Miscreant' Mike (Vapour Trails)
Every couple of weeks we will
shoot the breeze and play acoustic roots music
for backporches and country suppers

Track 1: Home Town Boy - Jack Williams (Eternity and Main - Wind River). Brian the silver Fox has been going around whistling this in the little holler where we recorded GrassRoots radio. Tis a cracking way to start a radio show . . .
interlude
Miscreant Mike reads CJ Wells Song For John Hartford
Track 2: Tall Buildings - John Hartford (Nobody What Knows What You Do - Flying Fish). John Hartford's twenty year battle with cancer sadly brought his life to an end in June 2001. CJ Wells heartfelt poem and John Hartford's own Tall Buildings make beautiful music together.
Track 3: Crazy in Alabama - Kate Campbell. One of our particular favourites like a soundtrack for Mississippi Burning. Looking forward to hearing Kate Campbell again when my partner in crime here Brian the silver fox brings Jack Williams and Kate Campbell to the Talking Heads, Southampton this December . . .
Track 4: Lightnin' Runnin' Free - Dan Lewis and Joe Freeman (Ragged But Right - Blue Ridge Mountains Music)
Track 5: Crossroads - Dan Lewis and Joe Freeman (Ragged But Right - Blue Ridge Mountains Music). Mighty fine pickers and songwriters from the Blue Ridge Mountains of North Carolina currently delighting all in our neck of the woods.
interlude
Brian 'the silver Fox' with Jack Williams and Kate Campbell tour details
Track 6: The Old Buckdancer's Gone - Jack Williams (Across The Winterline - Wind River). Written on the death of Jack Williams friend the poet and author James Dickey one of whose books spawned the film Deliverance.
Track 7: Old Money - Mark Stuart (Songs From A Corner Stage - Gearle Records). Mark Stuart husband and fellow performer with wife Stacey Earle and an ace songwriter in his own right as this track will show.
Track 8: Visions of Plenty - Kate Campbell (Visions of Plenty). Kate Campbell's latest venture is a Gospel album on Nashville's Eminent Records and we'll probably be featuring it by and by but till we do we have more from Kate Campbell's back catalogue like this little gem.
Track 9: The Year Clayton Delaney Died - Tom T. Hall. (Best of Tom T. Hall - RCA Records) He wrote Harper Valley PTA and scores of other great songs and doubtless GrassRoots Radio will be back playing more including piles from Real the Tom T. Hall Project album.
Track 10: There's Got To Be A Way - Jack Williams (Dreams Of The Song Dog). A rocking track drawing its influences from Jack Williams past associations with everyone from John Lee Hooker to the Drifters.
Track 11: Fairest Of All Yarrow - Kate Rusby (Sleepless - Pure Records). This melancholic songwriter's verses are full of skullduggery and lost love, she comes from Barnsley in Yorkshire and could easily be related to the Bronte sisters . . .
Track 12: Give It To The Rich Man - Jack Williams (Eternity and Main - Wind River). Couldn't think of a better closer than another one of those Jack Williams songs that combine all that's magical about his performances, beautiful guitar work and songs that stand their ground with the best of them.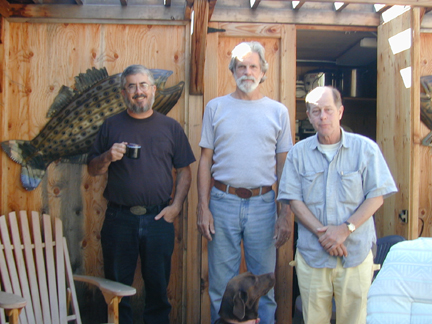 Challis, Idaho again, with Tony's dog Scully. Is that fish real?